Welcome to MentalBuffyFan!
This site is dedicated to the Buffy and Angel TV shows. On the site you can find image galleries for the main cast members, such as Buffy, Angel , Willow etc. There will be regular updates and news on the shows. you can find Biographies, Reviews, Video clips, The Pilot Episodes, Information on music from the Buffy show and links to other cool sites.
ANGEL season 5 premied on Sky one in the UK on tuesday 13th January at 9pm, the episodes repeat late saturday nights on Sky one. The season will continue showing on Tuesdays throughout January to June (this is all 22 episodes).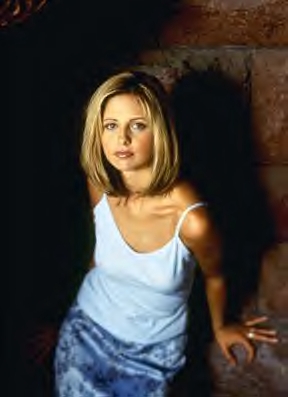 The Pilots!
We at Mentalbuffyfan are proud to present to you the pilot episodes of Buffy and Angel! To view them please go to the pilot link in the video clips section.
I don't own the copyright for either of those videos, but I ain't
charging anything. So don't sue.
Here at mentalbuffyfan we would be glad to answer any questions or queries regarding either of the shows, so please feel free to click on the link below to e-mail us.
have you written into the buffy mag or angel mag? are you tired of waiting to have your questions answered or your drawings printed? then wait no longer! mentalbuffyfan would be happy to post anything you e-mail us so send, send, send!
each month we will post one new picture and several of your questions on the site that you can view or read.
F
when HARRY met SALLY
Based On the Castle Rock Entertainment Motion Picture
adapted b
THEATRE ROYAL HAYMARKET
for a full review on this article, please go to the scooby reviews.
to go to the message boards, create personal e-cards with sounds, post your message in the new guestbook, join the mailing list, or tell a friend about the site, click one of the links at the bottom of the page.
To SIGN the new and improved guestbook the link at the bottom of the page, or
To VIEW the old guestbook entries click here
http://mentalbuffyfan.tvheaven.com/fsguestbook.html
To visit our sponser site, and to view every single script from buffy or angel, click the link below
Buffy and Angel scripts

Pictures
If you are searching for a specific picture of anyone from the shows, e-mail me and describe the picture you want. I will look for it and post up anything I find that matches your desription.
The Best Girl Poll has now finished and the winner was WILLOW, Yay!
The Best Boy Poll has also ended, with RILEY as the winner, thank you to everyone who took part in the polls.